May 29, 2017 by: Andy & Chris Moreno
The New River Trail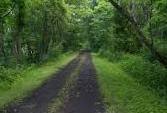 When it comes to bicycling for me the terrain is all important, by this I mean flat, I really need flat, as in the above picture. The New River Trail suit my bicycling needs to the tee. If you feel as I do, the next time you visit us at Mountain Song Inn bring you bicycle and we will put you on this lovely trail which is a scenic drive from the inn.
The following information is taken from:http://www.dcr.virginia.gov/state-parks/new-river-trail#general_information
I have copied it for you, plus it make my bicycling blog look oh so much more interesting. Come for a visit and bring your bike.
New River Trail is a 57-mile linear park that follows an abandoned railroad right-of-way. The park parallels the scenic and historic New River for 39 miles and passes through four counties and the city of Galax. The trail's gentle slope makes it great for visitors of all ages to hike, bike and ride horseback. The park's Foster Falls area offers guided horseback trips; canoe and bike rentals; boat launches; gift shops; and a horse arena. Fishing is popular, and primitive campsites dot the trail. There are access points to the trail at Allisonia, Chestnut Yard, Cliffview, Dannelly Park (near Galax), Draper, Dora Junction (near Pulaski), Foster Falls, Fries, Galax, Gambetta, Hiwassee and Ivanhoe. Horse trailer parking is available at Allisonia, Austinville, Cliffview, Dora Junction, Draper, Fries, Ivanhoe and the Mark E. Hufeisen Horse Complex.
Two tunnels: 135 feet and 193 feet long
Three major bridges: Hiwassee - 951 feet; Ivanhoe - 670 feet; Fries Junction - 1,089 feet
Nearly 30 smaller bridges and trestles
A historic shot tower used more than 200 years ago to make ammunition
Potable water is available only at Galax, Cliffview Campground (Dannelly Park) and Foster Falls as well as at the horse trailer lots at Ivanhoe, Draper and Dora Junction.
Five non-flush toilets are available along the trail.
Hours
Trails and the day-use area are open daily from dawn to dusk. Call the park for livery and gift shop hours.
Location
There are several entrances into this park. The park meanders through Grayson, Carroll, Wythe and Pulaski counties and Galax in southwestern Virginia and parallels the scenic and historic New River for 39 miles.
Its address is 116 Orphanage Dr., Max Meadows, VA 24360.
Foster Falls: Latitude, 36.530512. Longitude, -80.512931.
Shot Tower: Latitude, 36.522000. Longitude, -80.522033.
Cliffview: Latitude, 36.408613. Longitude, -80.550665.
Jurisdictions:
Counties: Carroll, Grayson, Pulaski and Wythe
Cities: Galax
Towns: Allisonia, Austinville, Draper, Fries, Hiwassee, Ivanhoe and Pulaski
Here's a list of entrances and directions (PDF) to each.
Drive Times: Charlotte, N.C., 2 hours; Knoxville, Tenn., 3 hours; Winston-Salem, N.C., 1 hour.
Park Size
1,668 acres.