November 6, 2016 by: Andy & Chris Moreno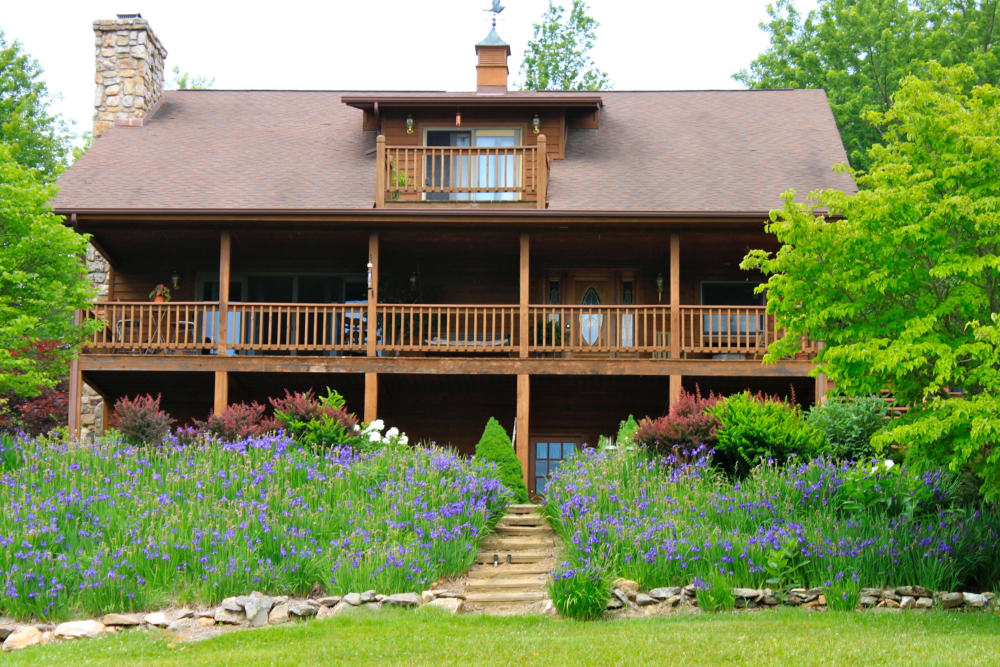 I just love it when a guest is gently persuaded to write a blog of their adventures at and away from Mountain Song. Coleman and Bland stayed with us for a week which doesn't happen nearly enough. When you read their list of activities, may you to will be tempted to stay in our area longer. I just hope they left enough undone to return for another visit and blog.
Chris
There`s a narrow country lane in Floyd County, VA that leads to an absolute gem, Mountain Song Inn. Andy and Chris are your hosts at this wonderful B&B, where every detail has been thoughtfully considered. My wife and I enjoyed the French Country room, which faced the mountains and the morning sun. Inn guests have the use of a refrigerator and microwave and even the pool table upstairs, but the showstopper is the view from the upstairs porch,which looks out over manicured lawns to the mountains beyond.
My wife and I returned to the Inn one evening and Andy had exciting news. A rocket launch was planned in twenty minutes and looking east off the porch we should be able to see it! Andy and Chris joined my wife and me for an amazing sight as the rocket appeared in the east and headed on to the international space station.
Later in the week everyone at breakfast was delighted by the engagement of a young couple, which took place at the inn the night before. Andy did not miss a beat and soon champagne was poured for the whole table.
The whole week was a delight from beginning to end, and many area adventures are waiting close by. Buffalo Mountain is a unique natural area and hike to fantastic 360-degree views from the top. Just twenty minutes down the road is the town of Floyd,Virginia with several good restaurants, but the main attraction is Floyd Country Store and the live bluegrass and Old Time music performed on Friday nights.Jacksonville art center and other nice shops are found around town. My wife and I enjoyed visiting a yurt manufacturer. You don`t get to do that every day! Fifteen minutes from the town of Floyd is the Blue Ridge Parkway, a scenic highway with many attractions. We enjoyed the Blue Ridge Music Center which features live music most days in summer and fall and houses an excellent museum of bluegrass music history.
Many other adventures are found in the area, from fishing Rock Castle Creek and New River to visiting the Grayson Highlands State Park. Here are some more details from our adventures. The Blue ridge Music center is one hour south of the intersection of Route 8and the Blue Ridge Parkway. If you go straight from the Inn through Galax it takes about one hour and twenty minutes. To get to Grayson Highlands State Park, go west through Galax on Route 58. It takes about two hours. We took a great hike in Grayson Highlands called Twin Pinnacles Trail, a 1.6 mile interpretive trail with grand views. The hike starts at the visitor center, but be aware the visitor center was only open Thursday through Sunday when we were there in mid October. The trail is always open of course. The New River State Park is about one hour and twenty minutes from the Inn not far from Galax. Another great hike starts at the Rocky Knob Visitor Center on the Blue Ridge Parkway near milepost 170. This hike is a 3.5-mile loop through woods, past rolling farm land and out into open land with nice long views of the mountains.The wind was blowing a blue streak when we were there but that just added to the feeling of being on the moors in Britain. Mabry Mill, a much photographed historical attraction, is just a few miles south of Rocky Knob.
Enjoy your Southwest Virginia vacation. Coleman and Bland, Richmond, VA